You've probably heard the saying, "The money is in the list". Well it's true, but how do you grow your email list on a budget?
Twitter can be a great way to acquire leads, it can also be a great way to grow your email list without spending a dime.
The big challenge is in getting your followers to take the next step with you, such as giving you their email address.
Remember, Social Media is about establishing relationships. Most lasting relationships are not about one person blasting sales messages constantly.
You should focus on getting to know your clients needs and challenges and then providing really great content that helps solve their problems.
Approximately 96% of visitors that come to your website are not ready to buy — but they maybe willing to provide contact information in exchange for valuable content. (Source: Marketo)
This is why list building is so important.
How do you implement your plan?
Step 1. Know your customers!
Step 2. Create really great content!
Step 3. Tweet your offers!
Know Your Customers
I hope that you have already done your homework by researching your customers. Be sure to research people to understand your target audience. Check out How to Find More Customers for tips on who to target.
Once you have a identified your customer – address their pain points.
Think about what your customer needs to take the next step. What one piece of information will give them what they need to move forward.
You also want to consider how they want to receive that information.
Then produce really great content that will nudge them further and keep them coming back.
Create Really Great Offers
Only share your best stuff.
When building your email list you will want to focus on giving away really good, really relevant and always free items.
When asking for some ones email, be sure to give them something free in return.
Free Downloads are always well received as long as they contain very knowledgeable and well presented information. Using your authority on your topic to share information with others will establish trust.
Free Training is another way to go if you have the means to offer a mini course.
You want to entice your audience by giving them what they really need.
Regardless of your offer, your landing page should showcase your offer. Be clear and concise in what it is you will be giving them in return for their email address. Free is a very good motivator.
Be sure to solve their problem while leaving the door open to give them more. These should be enough of a teaser that they get hooked but not so much that they don't need to buy anything from you in the future.
You have spent a great deal of time and money creating lead generation offers or Lead Magnets. Now it's time to put them to good use.
Twitter is a great way to promote your free offers.
Tweet your offers!
Once you have created Lead Magnets, its' time to put them to good use.
Try Tweeting, DM (Direct Messaging), Replies and Paid Promotions.
Tweets should include relevant #hashtags.
You can send out links several time mixing up your messages to see what performs better.
Create DM's that include links to your great stuff as long as the offer is relevant to your users.
You can use tools like our own MoreFollow Twitter management tool to set up a welcome DM to greet any new followers.
Be sure to test your results and change your message as needed.
If you notice someone asking a question or Tweeting on your topic you can also reply to followers with a link to your promotion pages.
Want to grow your list even faster. You can always use Twitter ads.
Paid promotions can generate new subscribers very quickly if have a little advertising budget to spend.
This can include promoted Tweets or Lead Generation Cards.
I suggest that you test your tweets before promoting them to make sure they are well received.
Real World Example
Here's a working example #1. I will show you one of our ebooks that we use on our blog.
To Get this promotion going for social we simply created a landing page with the same offer as one we promote on our blog. In our case its "The Complete Guide to Building a Twitter Audience."
This is very relevant to both our tool users and our blog readers. This is also very relevant to our followers who look to us for twitter tips.
Don't forget to include your social share buttons!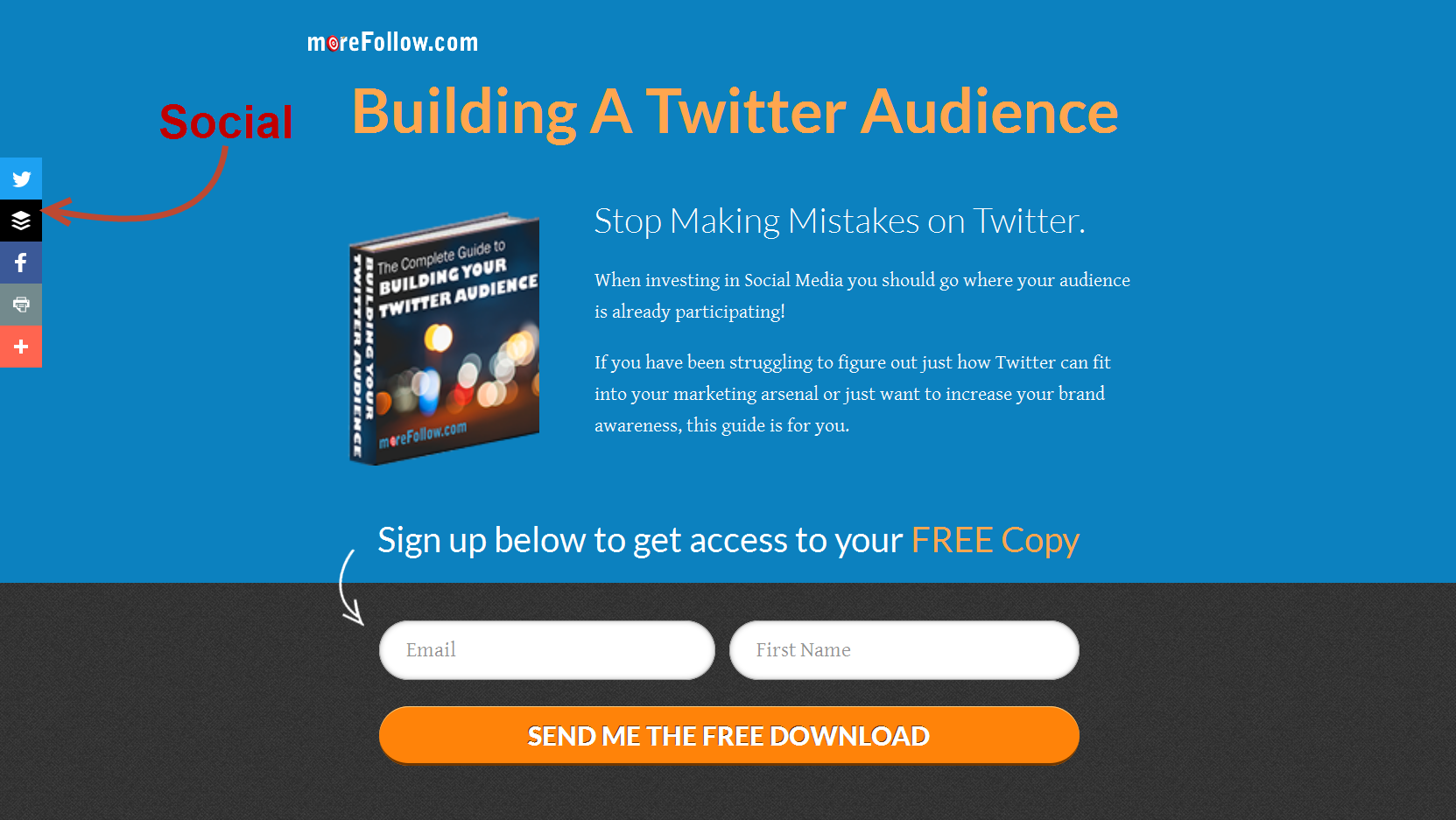 The thank you page has the download link to get the book. In a real life scenario you would also want to include an upgrade offer or something to take them to the next step.
Thank You Page Example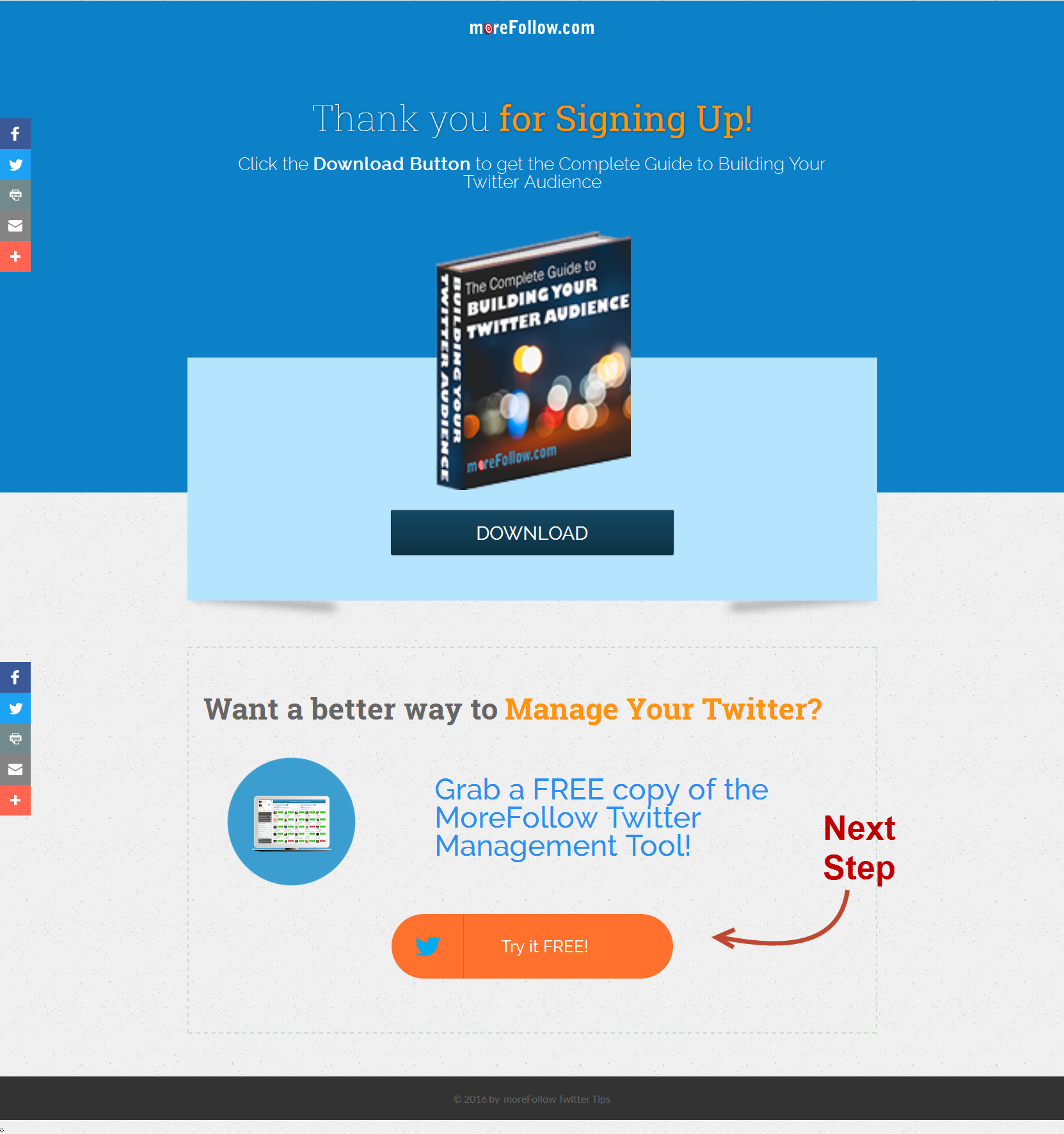 Example #2
I will show you one of our FREE Courses which performs extremely well.
Everyone loves free stuff but free downloads get a little tiresome. Putting together a free training course is a great way to reach new customers.
This promotion includes a very simple landing page since we used a video to convey our message. Once again we have kept our content relevant to our followers and we show them how to solve a pain point.
See it live here, "Twitter Made Easy – FREE Mini Course"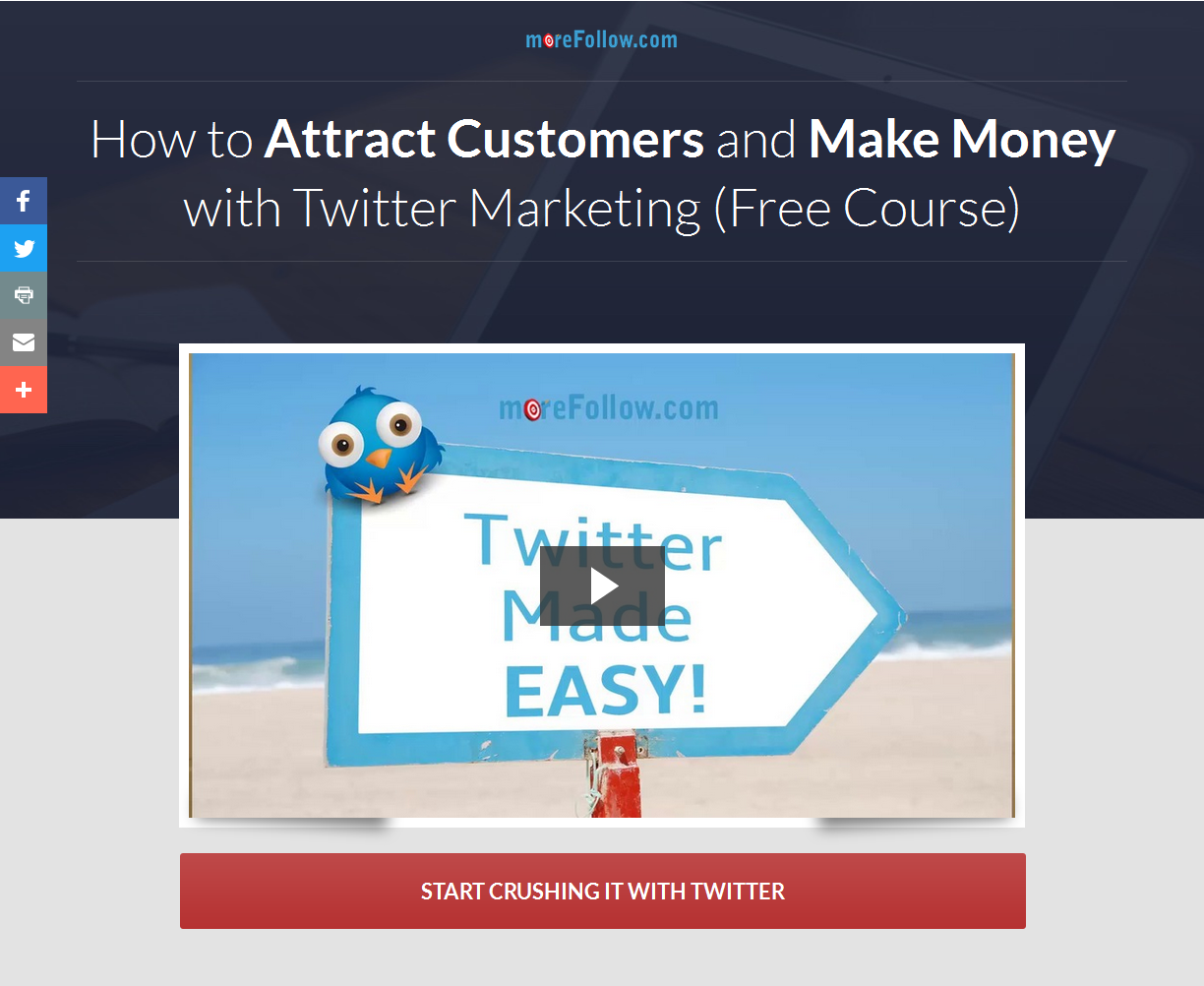 The thank you page has the FREE Mini Course packed with plenty of goodies. In a real life scenario you would also want to include an upgrade offer or something to take them to the next step.
Thank You Page Example
These pages should also be made with sharing in mind. If you make sharing your great stuff easy for others they are more likely to tweet it.
Once you have your promotional pages ready simply tweet your lead magnet lead page and encourage others to do the same. You can also include links in your direct messages for added exposure.
You can tweet your lead magnets often, set them up as scheduled tweets in your favorite tool or pin them to your profile so they are the first thing anyone sees when looking at your profile.
Conclusion
Twitter is just one more way to spread the word about your product or service. Using lead magnet promotions on Twitter can be a great way to grow your email list quickly without spending a small fortune on Facebook ads.
As you grow your list, be respectful of your subscribers. Follow up with awesome offers and your leads will pay off.
I wish you all the best.
Let me know how you use Twitter to grow your email list.
Want a Better Way to Manager Your Twitter?
Get More of the RIGHT Followers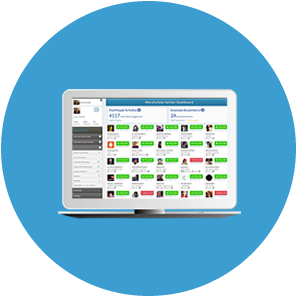 Grab a FREE copy of the MoreFollow Twitter Management Tool!
Try it FREE!